Ancient Egyptian Stone and Statues
All my Egyptian artifacts were legally exported from Egypt prior to the 1970 UNESCO treaty, and my policies comply with all international trade laws regarding antiquities. Every item is legally and ethically acquired, coming from old American and European collections, museum deaccessions and auctions. Provenance is not always listed in every item description due to restricted space, but is provided on the certificate of authenticity that accompanies each item. Enjoy!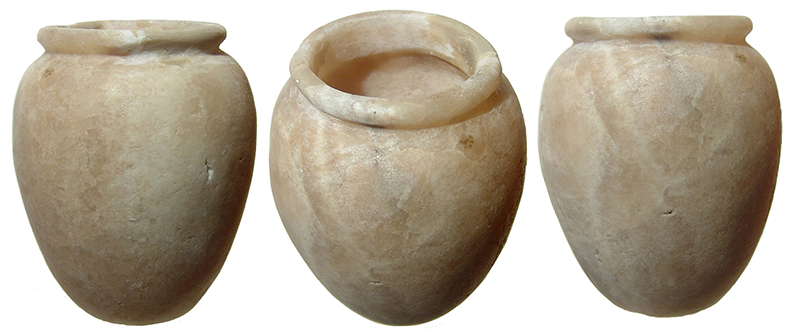 Old Kingdom Egypt, c. 2575 - 2150 BC. An excellent and quite large Old Kingdom alabaster jar, the ovoid body tapering to a
flattened base, the neck narrows with rounded rim. The interior is well-bored, and the vessel possesses thick walls. Carved from attractive mottled stone and a pleasing example! Slight restoration to lip. H: 3 3/4 in (9.8 cm). Light surface deposits.
* This is the nicest Old Kingdom stone vessel I have had. It is wonderful. If you hold it up to a strong light you can see
exactly which angle it rested at for over 4,000 years. Ex collection of Bonnie O'Boyle, PA. #AE3217: $1200 SOLD
---

Ancient Egypt. Late Period, c. 664 – 332 BC. Great Egyptian alabaster kohl vessel. The body ovoid with flattened bottom and narrow cylindrical neck with wide, flat rim. The vessel is well preserved with light deposits throughout, traces of kohl still deep inside. H: 3 in (7.6cm). Wonderful patina. Ex collection of J.D.R Fryer Collection, UK. A truly gorgeous example, a piece I seriously considered keeping for my own collection! #AE2610: $750 SOLD

---

Egypt, Late Period, c. 664 - 30 BC. Choice Egyptian limestone head of a goddess. Perhaps depicting Hathor, beautifully detailed, wearing a vulture-winged headdress with recessed central area bordered by uraei for an insert in another material, and a uraeus. Her well-modeled features indicate that this head would have belonged to a beautiful statue. H: 2 1/2 in (6.4 cm). Light deposits and mounted on a custom stone base which allows it to be rotated 360 degrees. Ex Los Angeles private collection, acquired at Auction; I.M. Chait, Beverly Hills, CA. *

A similar example at the Met has been attributed to Arsinoe II, half-sister/wife and co-pharaoh of Ptolemy II, daughter of Ptolemy I, c. 3rd century BC (approx).

#NAV136: $750 SOLD
Every item comes with a
100% Lifetime Guarantee of Authenticity.
To make a purchase, or for more information, CLICK HERE
All contents (C) 2003-2023 AD. All rights reserved.
Owned, Operated, and Obsessed Upon by Gabriel Vandervort.
Reproduction without permission is prohibited.
Related search topics: ancient Egypt statues for sale, ancient Egyptian stone statue for sale, authentic ancient Egyptian statue artifact for sale, Los Angeles California