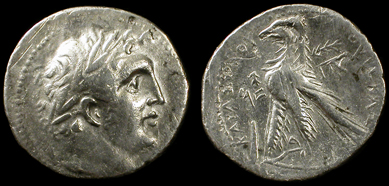 Nice Shekel of Tyre, famous Biblical
"30 Pieces of Silver" of Judas.

Phoenicia, Tyre. Silver Shekel. Dated Year 96 = 31-30 BC. Rare date written in Phoenician! Laureate head of Melkart right / TYPOY IEPAS KAI ASULOU, Eagle standing left on prow, date in Phoenician above club in left field, monogram in right field, Phoenician letter beth between eagle's legs. Vertical club to left of eagle's feet. ref: BMC 180v. Excellent portrait, light scratch at 10:00 on obverse, small vertical scuff on eagle's chest. 29 mm, 13.27 g. Nice! #4993-GV0728: $975.00 SOLD
---
King Herod Agrippa II, 66-67 AD
Bronze prutah. Umbrella-like canopy with fringe, AGRIPA BACILEWC / Three ears of barley, L / S to left & rt. Herod Agrippa II was appointed king of Chalcis by Claudius of Rome, and was responsible for the trial of St. Paul in 60 AD.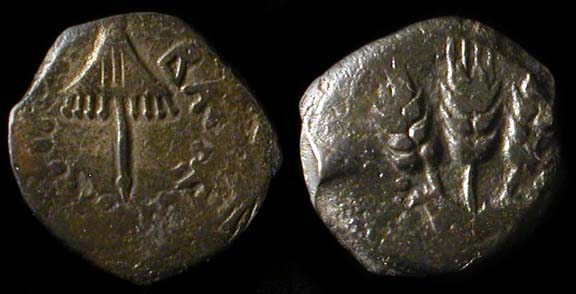 ---
The Star Of Bethlehem Coin!
Antioch, Syria. Seleukis ad Pieria. Time of Roman emperor Hadrian, 117-138 AD. Bronze AE18, dated year 177 of the Caesarian Era (128/9 AD). Turreted, veiled, and draped bust of Fortuna right / Ram leaping right, head left; star within crescent and A above, ЄT ZOP (date) below. 18mm, 4.89 g. ref: RPC III 3732; McAlee 125c; BMC 102; SNG Copenhagen 117. ex-Nick Jamgochian collection, Glendale, CA, formed in the 1920's-1950's. #CG2486: $250 SOLD