Group: Fair to Fine. #cng2750470
Ancient Rome. An excellent collection totaling 83 counterfeiter's / forger's moulds! Terracotta moulds with coin impressions.
Used to reproduce both sides of centenionali of Constantius II, either emperor on galley type from Constantinople or soldier
spearing a fallen barbarian horseman from Alexandria. ex-Princeton Economics department collection, acquired by Martin Armstrong.
---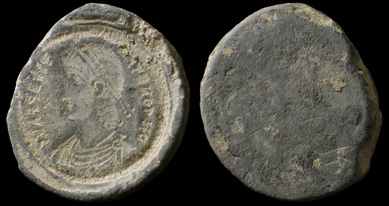 Ancient Rome, c. 340 - 360 AD. Clay counterfeiter's mould. One side with an impression of a centenionalis of Constantius II (337-361 AD). His bust, inscription DN CONSTANTIVS PF AVG. Finely detailed, in an excellent state of preservation. Some earthen deposits in the crevices. 29x6 mm (1 1/8" x 1/4" thick). ex-Princeton Economics department collection, acquired by Martin Armstrong. Excellent! #90050: $199 SOLD
---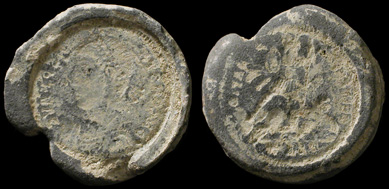 Ancient Rome, c. 340 - 360 AD. Clay counterfeiter's mould with an impression of a centenionalis of Constantius II (337-361 AD). The front bears his portrait and inscription, the back beard the image of a Roman soldier spearing a fallen barbarian horseman, with inscription around "FEL TEMP REPARATIO". Excellent detail! A lot of earthen deposits but deep, nice detail underneath. 29x 7 mm (1 1/8" x 1/4" thick). Very nice, both sides. #90051: $199 SOLD
---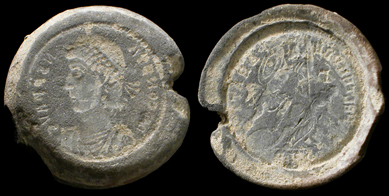 Ancient Rome, c. 340 - 360 AD. Clay counterfeiter's mould with an impression of a centenionalis of Constantius II (337-361 AD). The front bears his portrait and inscription, the back bears the image of a Roman soldier spearing a fallen barbarian horseman, with inscription around "FEL TEMP REPARATIO". 30x8 mm (1/8" x 1/4" thick). 29 mm (1 1/8"). Excellent bust. #AR2104: $199 SOLD
---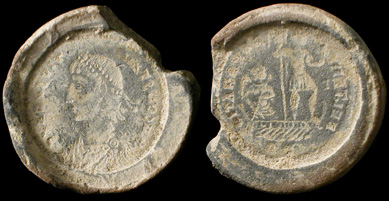 Ancient Rome, c. 340 - 360 AD. Clay counterfeiter's mould for a centenionalis of Constantius II (337-361 AD). His pearl diademed, draped, cuirassed bust right, CONSTANTIVS PF AVG / Emperor in military dress standing on galley moving left, holding phoenix on globe and labarum, Victory sitting at the stern, steering the ship, FEL TEMP REPARATIO (loosely translated "Return of the Good Times"). 30 mm (1 1/8"). Great detail! #AR2134: $250 SOLD
---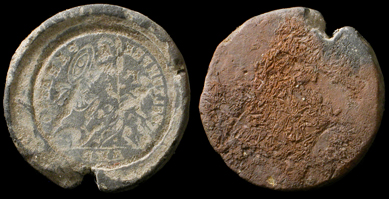 Ancient Rome, c. 340 - 360 AD. Clay counterfeiter's mould with an impression of the reverse of a centenionalis of Constantius II (337-361 AD). It bears the image of a Roman soldier spearing a fallen barbarian horseman, with inscription around "FEL TEMP REPARATIO". Other side blank. 30x8 mm (1/8" x 1/4" thick). 29 mm (1 1/8"). #AR2105: $150 SOLD