---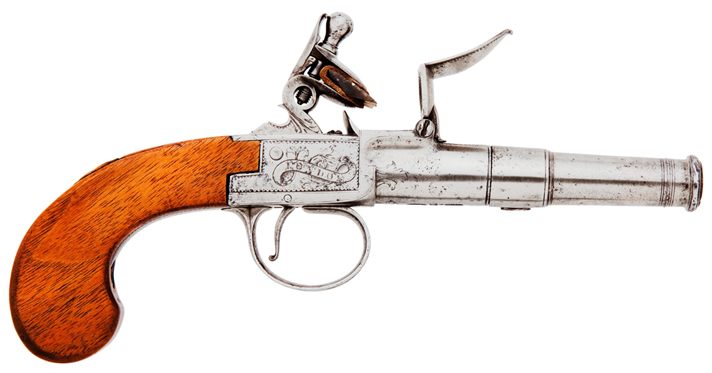 English Screw-Barrel "Box-lock" Flintlock Pocket Pistol, c. 1780.
Time of the Revolutionary War in America. Measures 7 1/2" long with 2 3/8" .45 caliber screw barrel, with lug on underside for removal, and cannon-turned muzzle. Breech with English proofs, forged integrally with frame and trigger strap. Frame, hammer, backstrap and breech have delicate scroll engraved with makers ribands Barbar/ London on the frame! All metal smooth and clean, in remarkably well-preserved condition. Mainspring apparently broken, but all else is mechanically fine. Stock with relief carved shell or fish-tail detail at barrel tang, overall about perfect! Very nice little gun by a well known and desirable maker. AR-YYK. Comes with custom metal stand! #52326: $1850 SOLD
---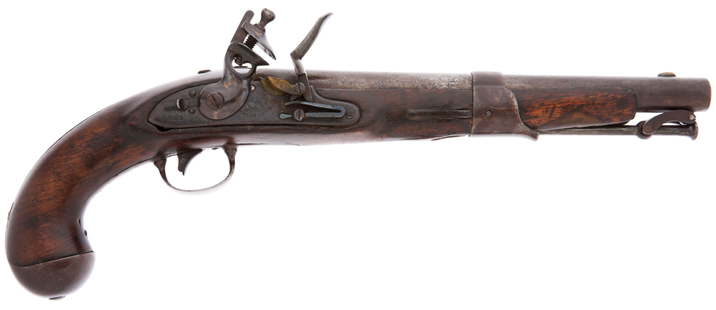 USA Model 1819 .54 Caliber Flintlock Pistol, dated 1822.
Time of US Presidents James Monroe, John Quincy Adams and Andrew Jackson. US M1819 .54 caliber flintlock pistol. Incredible piece! Metal generally smooth and brown with just some very light pitting at the breech. Good lock and breech markings, dated 1822. Although the hammer is possibly a correct replacement the gun remains in its original flintlock configuration. Sliding safety functions fine but the gun will not hold at full cock, which could be easily repaired. The stock, while generally very good, exhibits a few problems. A 1" piece split out behind the band following the ramrod channel, and three places where wood filler was used to affect a repair. AR-YAK. Comes with custom metal stand! #52372: $4500 SOLD
---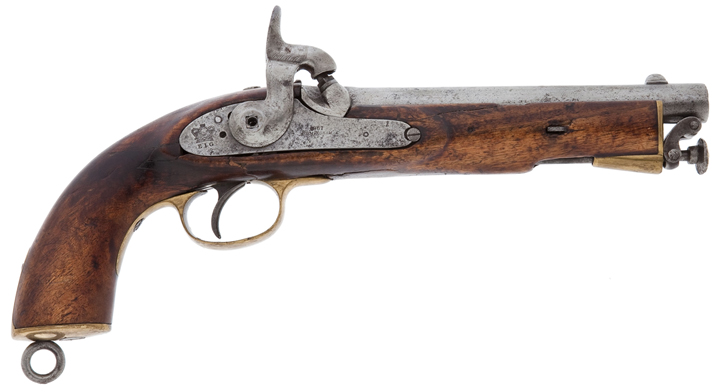 East India Company Pistol! Pistol used by the British during the height of imperial supremacy and piracy on the "seven seas". Pattern 1858 Cavalry Service India pistol dated 1867. This gun saw a lot of use for a very long period of time. A .65 caliber EIG East India Company percussion pistol with barrel, lock, trigger and hammer in white metal; trigger guard, butt, and ramrod keeper in brass. Lockplate stamped with a Crown and "EIG", the date 1867 and "Birmingham". The pistol is complete with capture rod and lanyard ring. The trigger maintains a strong pull. The stock has been refinished and the metal is a bit pitted and rough, common for metal which has seen extended use in salty sea air. A fantastic piece with rich history! Ex-Heritage Auctions. Ref.: R.E. Brooker
British Military Pistols
1603-1888, page 105 fig 116, and C. H. Roads
The British Soldier's Firearm,
page 115 fig 229-230. #52632x2: $2600 SOLD
---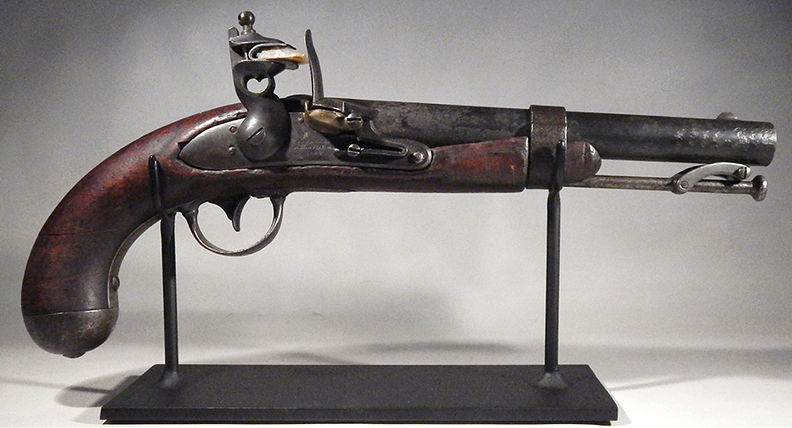 Early American Flintlock Gun! 1836.
An excellent A. Waters Model 1836 .54 cal. flintlock pistol made from 1836-1841, 41000 produced. Features 8" round smooth bore barrel, walnut stock with swivel ramrod intact, action functioning, lockplate engraved with "A. Waters Milbury MS 1836". Wonderfully preserved! Total length 14 inches. With custom metal stand. Ex South Dakota private collection. #AF2018: SOLD
---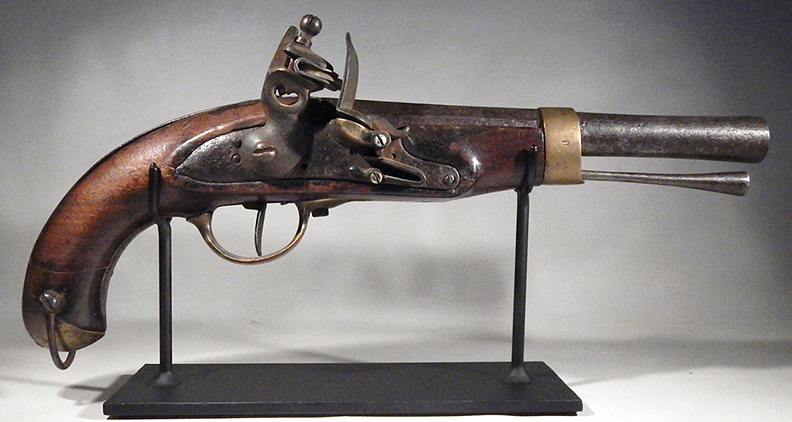 Antique Flintlock "Pirate" Gun! Late 1700's - early 1800's.
Very large and heavy early flintlock pistol with 9" octagon to flared round barrel, tulip head metal ramrod, and walnut stock. Various brass parts show small B stamps, good overall condition with functioning action. Total length over 15 inches! With custom metal stand. Classic "piratey" form! Ex South Dakota private collection. #AF2019: SOLD